Coinrule Review 2022 – Is Coinrule Legit & Safe To Use? – CaptainAltcoin

Coinrule Review 2022 – Is Coinrule Legit & Safe To Use?
Most of the trading bots on the market are mainly designed for experienced traders. Coinrule's goal is to empower everyone to "compete with professional algorithmic traders and hedge funds."
The team brings a mix of design and trading competencies into the product. That is reflected in the high usability of the platform. 
What is Coinrule?
Setting up an automated trading bot is challenging. Without a proper trading background, users usually find it difficult to set each parameter of the trading system correctly. Coinrule is a smart-assistant that helps to build a trading bot in a few easy steps. 
Coinrule's approach is unique among competitors. Its If-this-Then-That logic embraces the needs of all traders, and its user-friendly interface allows everyone to create a trading bot from scratch.
All you need to do is to connect your exchange to Coinrule via an API connection. There are detailed guides that will guide you through the process with no hurdles.
One of the main competitive advantages of Coinrule is the interface which offers a best-in-class user experience. Strategies on Coinrule consist of conditions and actions. All the parameters are selected using dropdowns, so all the options are immediately available. The blocks have a clean and intuitive design. The interface does not use complicated trading jargon so even newbies can find their way between the different options.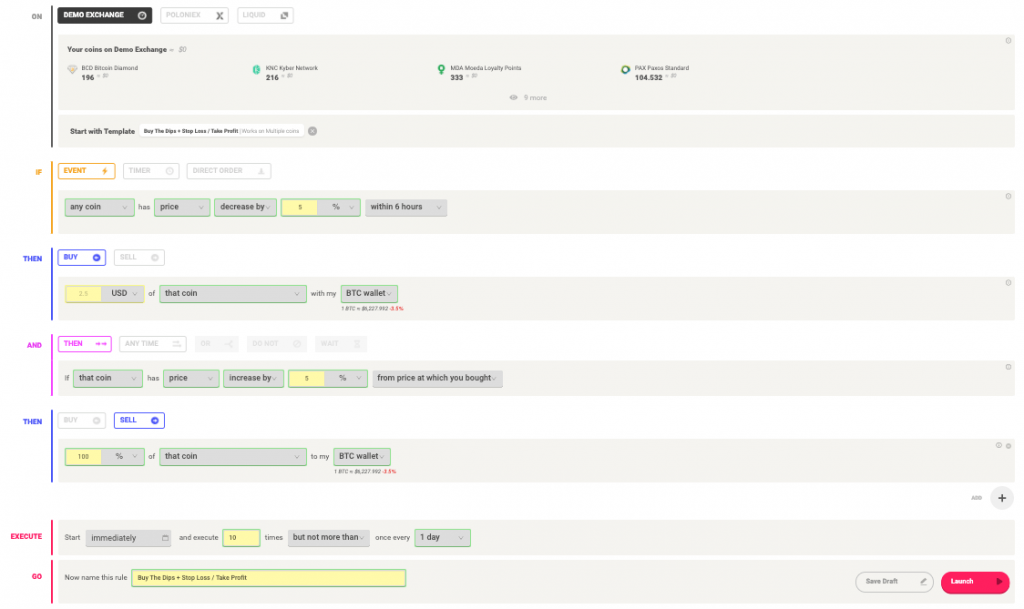 Users can create advanced trading systems connecting different conditions using intuitive operators. Thanks to the strategy editor, virtually every trading system becomes achievable. 
Not sure how to get started? No problem. Over 150 trading templates help users to create a bot in minutes from the very first login. Coinrule's support team is also extremely responsive via Live Chat and email.
Trading Templates 
Depending on the selected plan, users can unlock various templates with prefilled parameters for each strategy.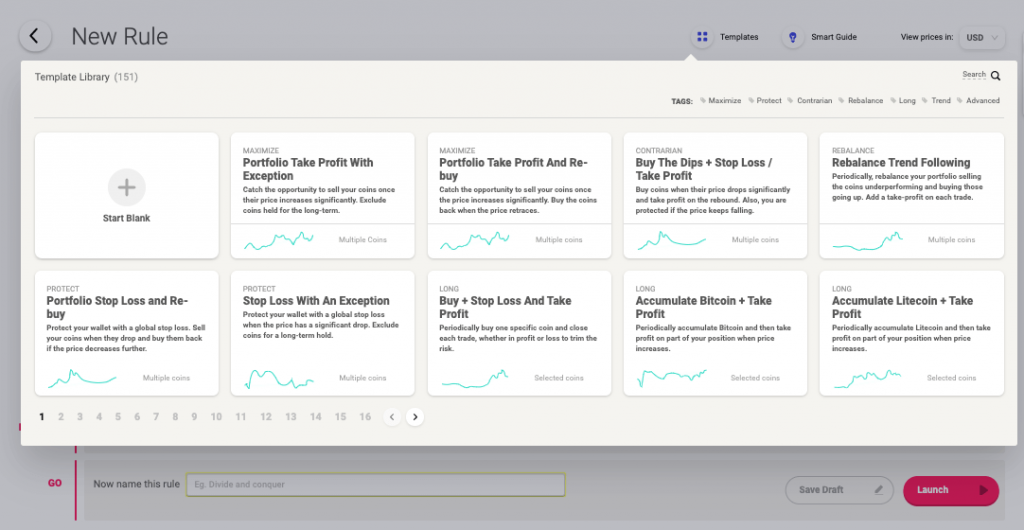 Coinrule ranks them according to their complexity and the investment style so traders can quickly find the one that fits their needs. These trading bots cover some of the most common trading strategies for cryptocurrencies. 
Some examples of templates are:
Portfolio take profit and re-buy. Taking profit on price spikes and buying back on retracements
Buy the dips with stop loss and take profit. 
Rebalance trend following. This strategy helps to reallocate the coins in the portfolio according to their performances on the market.
Accumulate with a take profit. This allows buying periodically taking profit on price spikes giving the possibility of buying more in the long term.
Golden Cross Trading. The most popular strategy based on Moving Averages.
Scalping trading.
RSI-based strategies.  
Range trading. Buying and selling within a preset price range.
One interesting option is to run these bots across all coins available on the market, or all the coins held in the user's exchange wallet. Thanks to this option, it's possible to build rules that act as a Global Portfolio Stop Loss or a Global Buy-the-Dip, for example. Including more coins at the same time in a single trading bot significantly increases the possibility to catch more market opportunities.
Even if the bot runs heavy calculations when more coins are added to the strategy, that doesn't seem to slow down the triggers and the executions. Coinrule is connected directly via WebSocket to each integrated exchange and that translates into low latencies reactions to market moves. 
Below is a quick rundown about top 3 bots, based on their most prolific properties:
Demo Exchange
Paper trading is a highly requested feature by traders who want to increase their confidence in a specific trading strategy. You can find that on the Coinrule platform. In case you want to test some strategies without the risk of losing your capital, you can try them out with a built-in paper-trading option.
The demo exchange mirrors precisely the market conditions on Binance. All trading pairs available on the exchange can be traded in Demo mode and prices reflect the current market conditions to guarantee more reliable performances of the strategies. 
While the rules are running, you can see all the relevant activities and the performances on the activity page. In this way, it's easy to review how the bot is working and, if needed, you can change some parameters to optimise it.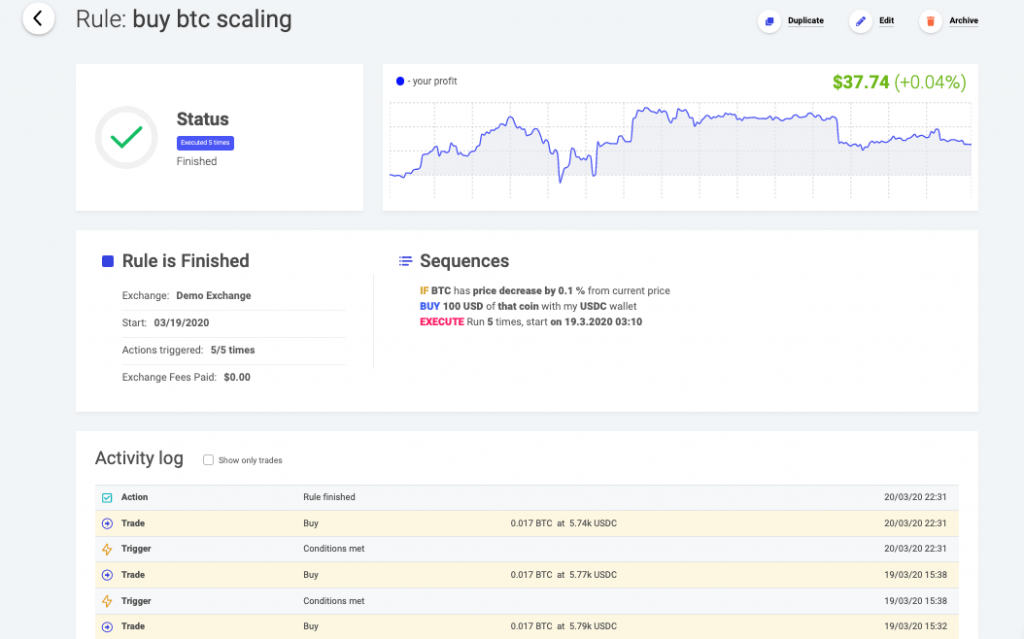 When you are ready to switch to a live exchange, you can do that in just a few clicks. 
Direct orders and dashboard
One typical hurdle for crypto traders is to manage their holdings among different exchanges. It's easy to lose track of the balances of each coin while trading. Coinrule's unified wallet view helps you with that. 
The dashboard has a useful feature to view your balances across all exchanges in a single window. With a single click, you can get a real-time update on balances and market values of all your coins.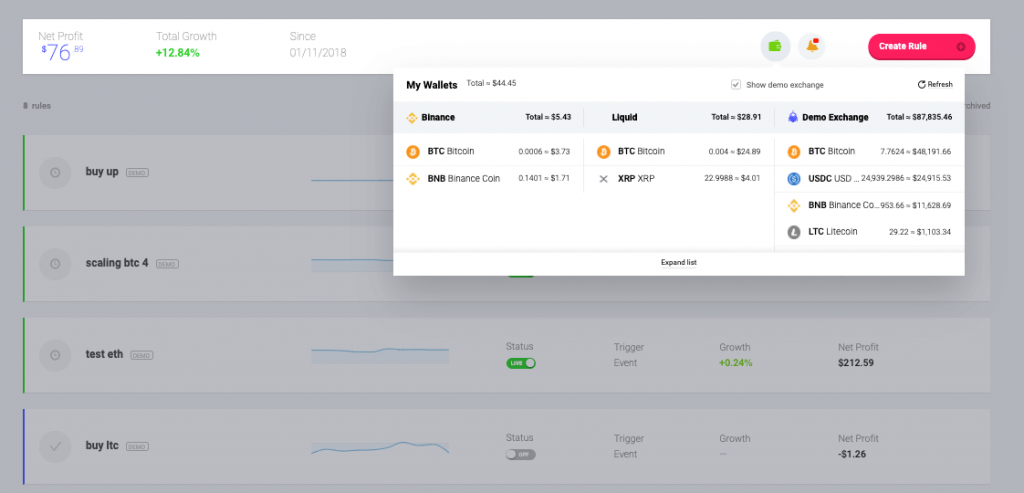 Ready to trade them immediately on the market? Coinrule is not only a platform to develop an automated trading bot but allows you also to buy and sell coins right away, with no need of accessing the exchange where you want to trade.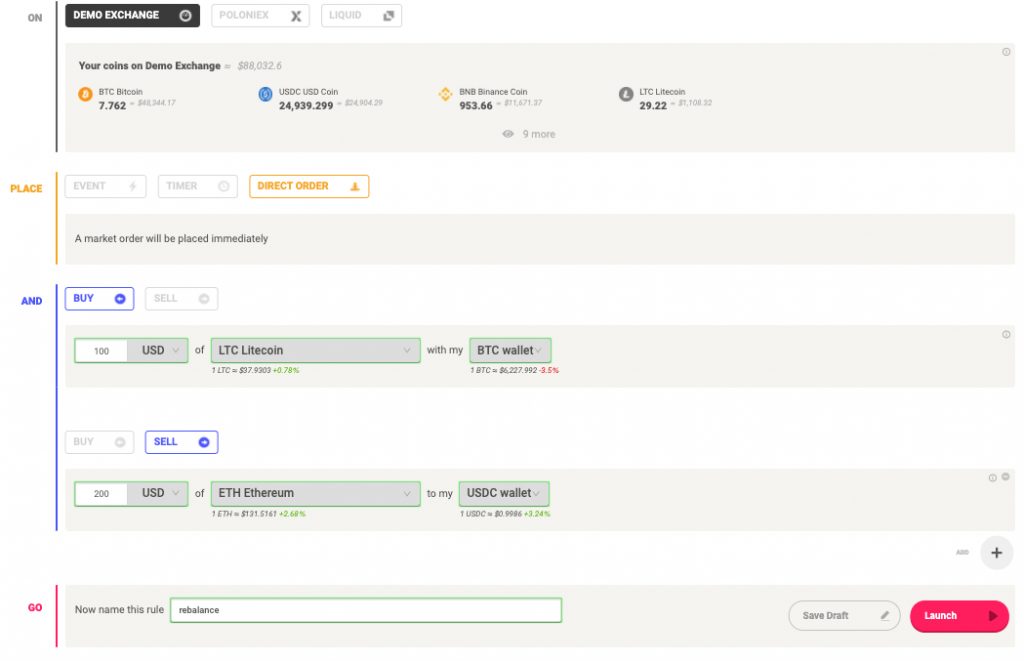 You only need to select the coin to buy or sell and the base wallet to use for the transaction, the bot selects the trading pair automatically and sends out the instruction as a market order. Each direct order supports up to five trades at the same time. That saves a significant amount of time when you want to rebalance your portfolio manually.
Security
Coinrule applies advanced protocols of security to protect all the users' API keys. The company stores the API private keys on separated data storages and encrypts them with AES-256 standard. A Cloudflare protection grants a further layer of security against the risk of DDoS and attacks of different nature.
Most importantly, Coinrule does not accept API keys which have withdrawal right permissions. That represents an additional layer of protection on the user side as there is no risk for the funds to be stolen in case of a malicious attack
Cost
You can use Coinrule for free with no time limitations with some restrictions in terms of a maximum number of active rules and a few feature constraints. For example, technical indicators are only available on paid subscriptions.
The monthly paid plans range between $39.99 to $249.99 for a Pro version of the platform. All the costs are subject to a discount for those choosing an annual subscription.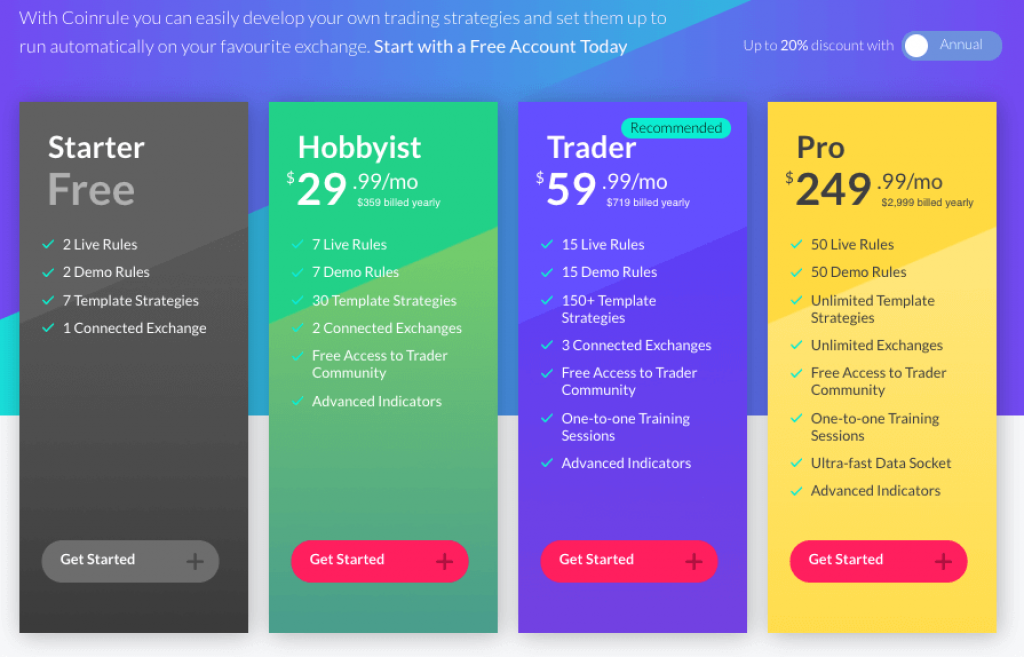 Coinrule does not apply any other fee on the trades, so the fixed subscription fee is the total cost you will pay for using the service.
Connected Exchanges 
Coinrule supports all the most popular crypto exchanges and more are added regularly. Coinrule currently works on
Coinrule.io review – Conclusion
If you wonder is Coinrule legit, we can reassure you that this project is definitely not a scam. Coinrule is a UK-based company with its Headquarter in London. The company is backed by a group of Angel investors and MKB Bank, a leading financial institution in Hungary. 
The customer support is very responsive and provides a handful of useful tips on how to get started. You can reach them using their built-in chat to get assistance in real-time, or posting a request via email or Coinrule's social networks. 
Coinrule offers a great platform for those approaching automated trading for the first time. The user-friendly interface allows building a bot from scratch in a few minutes and the dashboard offers a complete and neat overview of all the activities and performances related to each trading system. 
The If-This-Then-That rule logic that backs the platform is a genuinely unique approach that makes the whole experience seamlessly intuitive.
If Coinrule is not to your liking, check out our other guides on its competitors: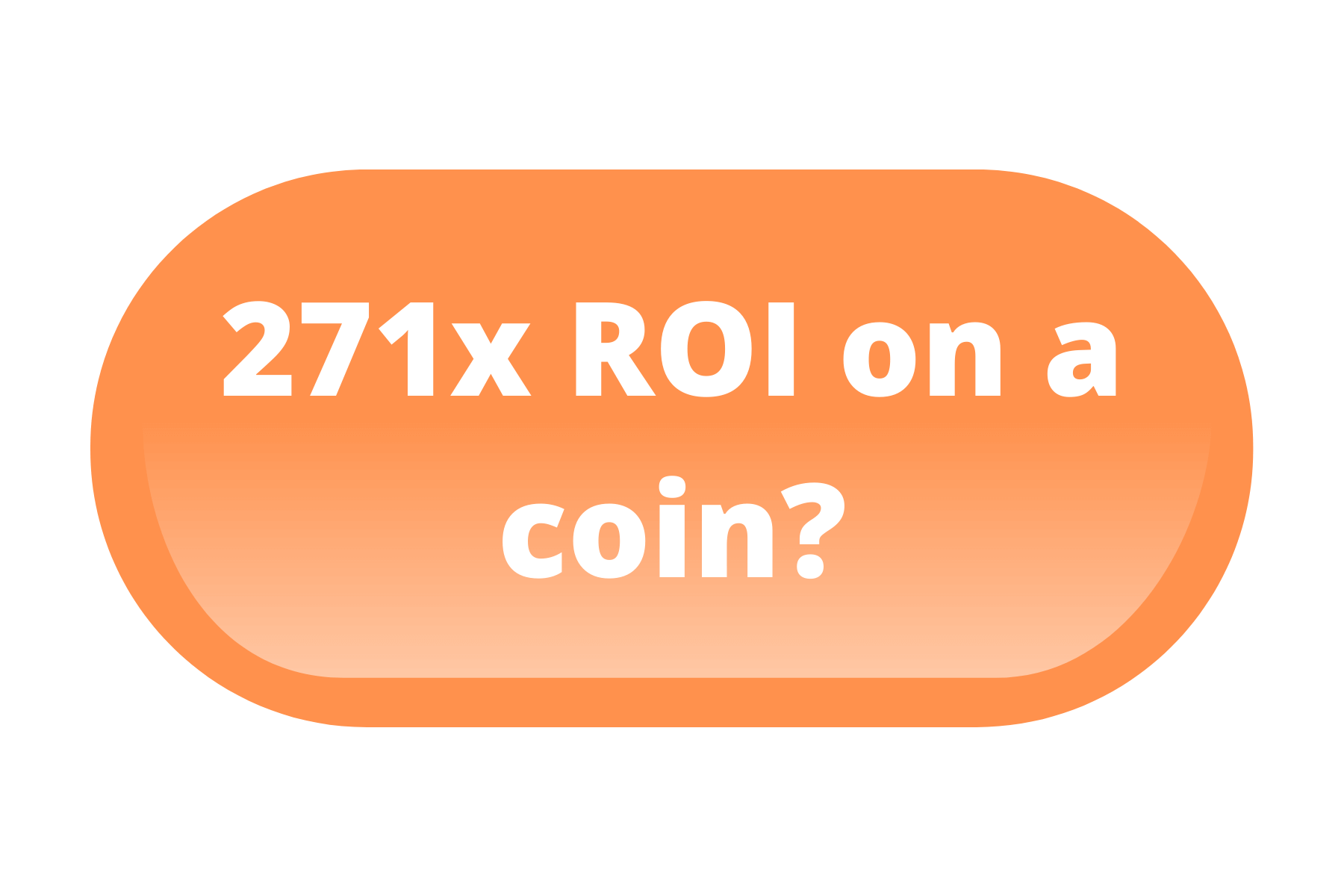 CaptainAltcoin's writers and guest post authors may or may not have a vested interest in any of the mentioned projects and businesses. None of the content on CaptainAltcoin is investment advice nor is it a replacement for advice from a certified financial planner. The views expressed in this article are those of the author and do not necessarily reflect the official policy or position of CaptainAltcoin.com
Source link